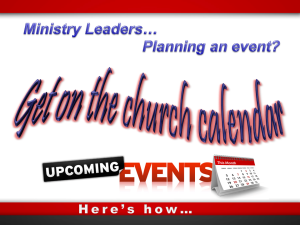 FBC MINISTRY LEADER CALENDAR/FACILITY REQUEST
Just like you, the leadership of First Baptist Church wants your event to be well attended. To accomplish that, we need as much advance notice as possible.
To acquire a date on the church calendar your event must be
approved
a minimum of FOUR (4) weeks in advance of your event date. Please keep in mind that church related events must align with the Core Values, Mission, and Vision of First Baptist church, Whitewright.
---
Print out a FBC Calendar Request Form or stop by the church office and pick one up.
Return forms to the church office and keep in mind that approval may take up to 7 business days. Please read these forms carefully as a deposit may be required to hold the calendar date and/or fees may apply.
MINISTRY TEAM LEADERS: Special services such as Childcare and Audio or Visual needs, are available for staff & ministry team sponsored events only (fees may apply). Since Childcare, Audio/Visual, and Publicity are handled by volunteers, a minimum of 4 weeks advance notice (after approval process) is required to allow adequate time for scheduling, graphics design, and promotion. PLAN AHEAD! Requests not received within the required time frame will become ineligible for special services.
FBC Calendar Request Form
FBC Calendar Request Form MINISTRY